Passionné de pepperoni? Mordu de mortadella? Fou de capocollo?
Si vous aimez la viande, vous allez adorer ces idées de pizza inspirées de MastroMD et de San DanieleMD!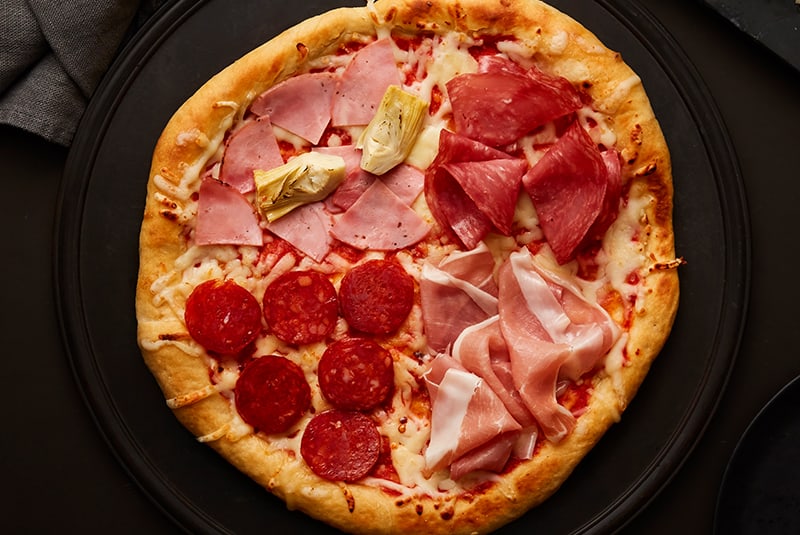 1. Mastro® & San Daniele® Meat Lovers Quattro Stagioni
Is there such a thing as too much meat? Not if they each have their own distinctive texture and delicious flavour like rich San Daniele® Prosciutto, melt in your mouth Mortadella and savoury Mastro® Capocollo and Calabrese.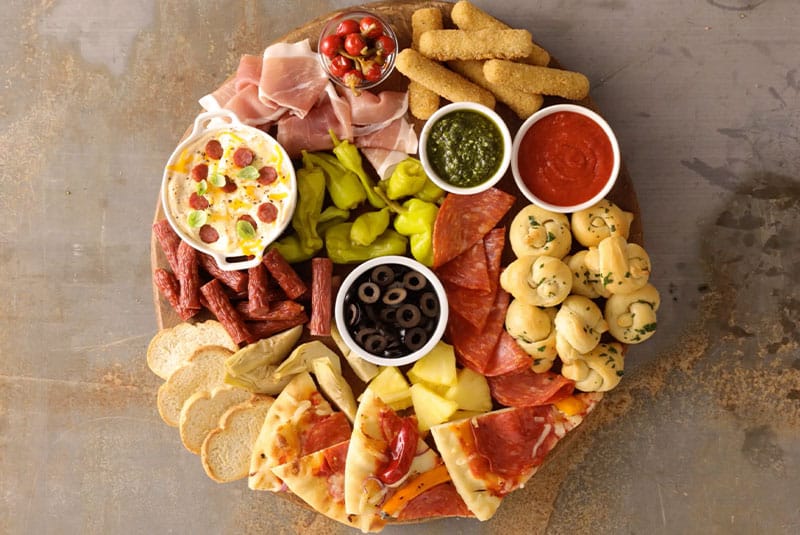 2. Pizza Charcuterie Board
Here's a tasty twist on pizza! We swapped the crust for a charcuterie board and filled it with all your favourite pizza inspired toppings and snacks. Think about everything you love on top of a pizza including Mastro® Genoa Salami, San Daniele® Prosciutto, olives, sun dried tomatoes, and roasted red peppers that will make this pizza charcuterie board come to life. Serve with Mastro® Salamini Sticks, garlic knots, flatbread, and a side of marinara or pesto sauce to dip.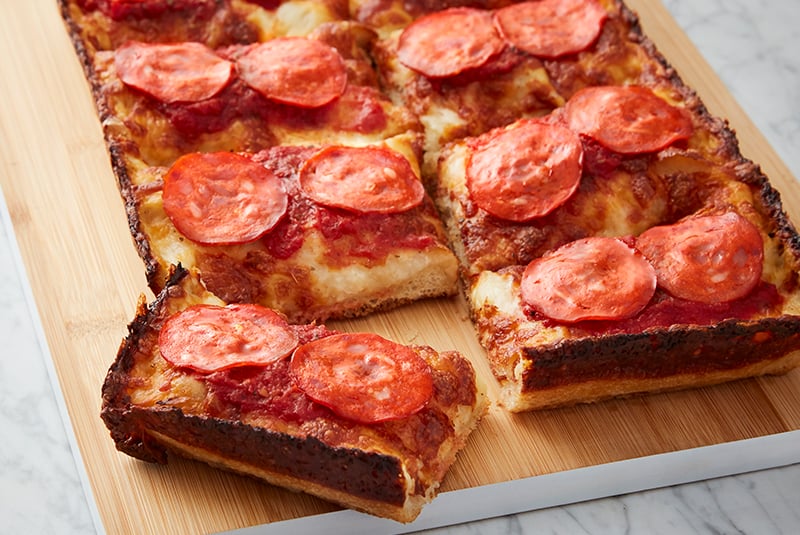 3. Delicious Detroit Style Pepperoni Pizza
The perfect way to indulge your passion for pepperoni. The thick golden crust and crispy cheesy edges creates a unique combination of textures. This traditional Detroit style pizza features a thick, airy crust baked inside a rectangular, oiled pan that comes out crispy and light. Top with slices of our NEW Mastro® Pepperoni and dollops of tomato sauce and you have a Detroit Style Pepperoni Pizza.
Don't have a square pan? An oiled round and deep cast iron pan is a great substitute.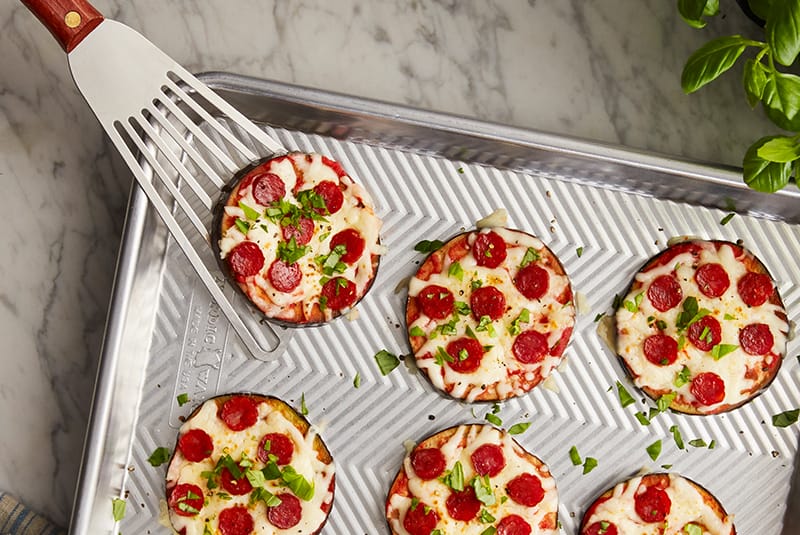 4. Mastro® Pepperoni Keto Eggplant Pizza
Just because you're going Keto doesn't mean you have to pass on the pizza. For a delicious way to turn your favourite food into a low carb and gluten-free meal top slices of roasted eggplant with cheese, basil, and our NEW Mastro® Pepperoni to create mini eggplant pizzas.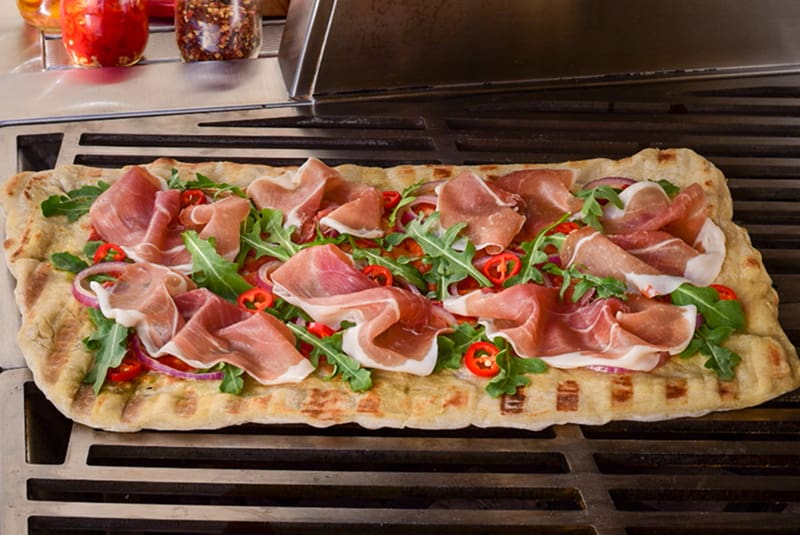 5. BBQ-ed Flatbread
Fire up the grill – it's time to create a beautiful BBQ-ed Flatbread! Nothing beats the unique texture and smokey flavour you can achieve with grilled pizza dough. Take it to the next level of delicious by topping it with arugula, red onion, and of course, layers of rich San Daniele® Prosciutto.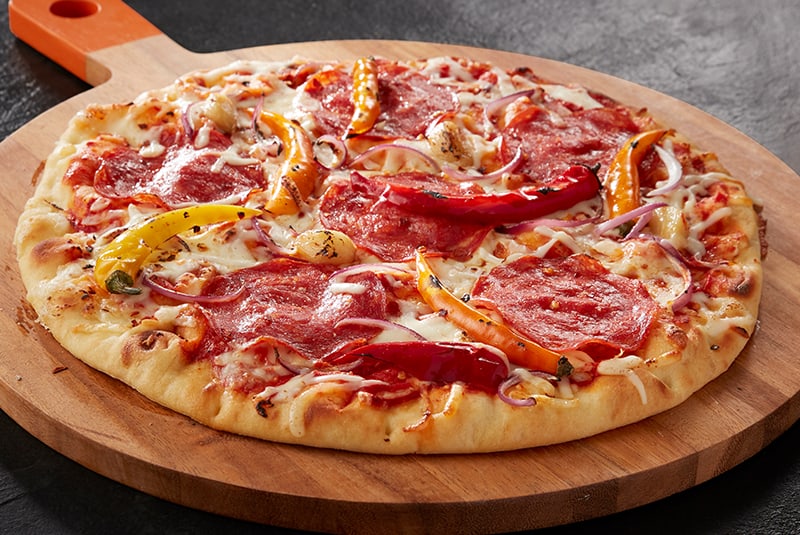 6. Mastro® Pizza Diablo
Looking to spice up your pizza night? Featuring Mastro® Hot Genoa Salami, roasted garlic, sliced hot peppers, red onion and mozzarella cheese – this pizza sizzles!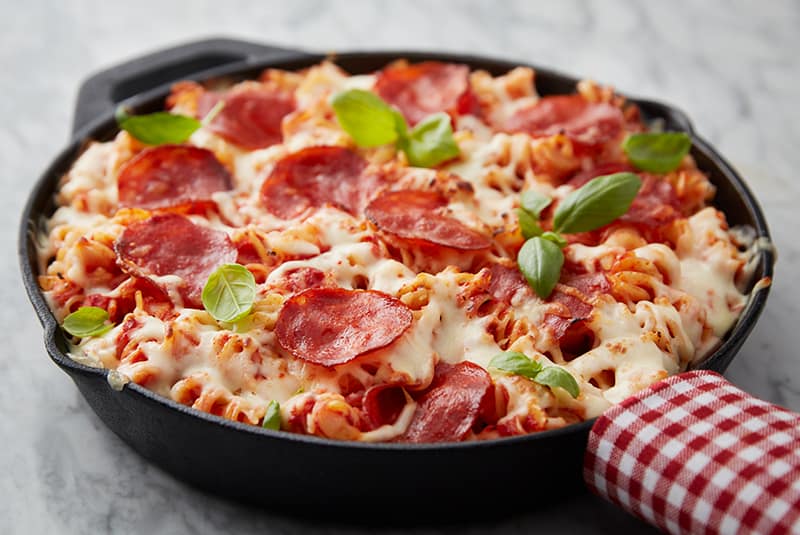 7. Baked Pasta Pizza
What do you get when you combine pizza with pasta and a whole lot of pepperoni? A dish that's nothing short of heaven. With mozzarella, fresh basil and tomatoes and the bold taste of Mastro® Pepperoni, you're definitely going back for seconds!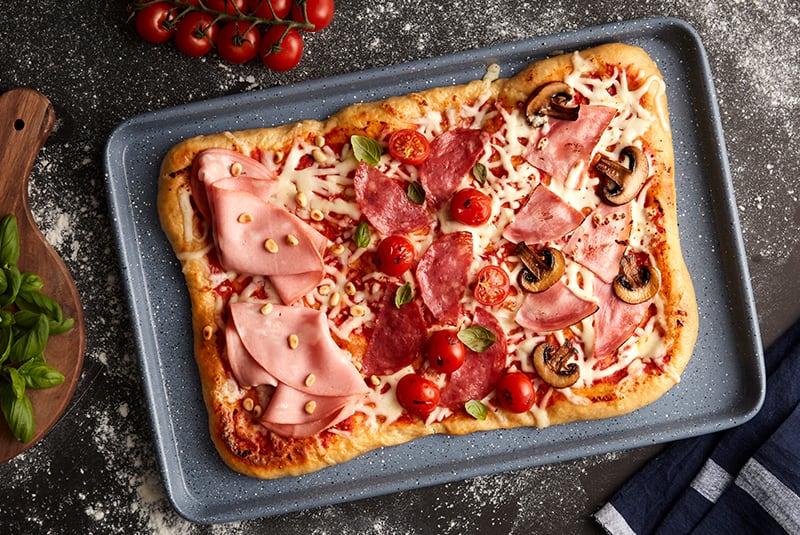 8. Delicious DIY Pizzas
Time to let your family's creative side – and their love of meat – run wild. Starting with a sheet pan pizza you can quickly and efficiently feed the whole family and satisfy everyone's different tastes. Create three different pizzas in one using store bought pizza dough, and topping it with Mastro® Genoa Salami, San Daniele® Mortadella, and Mastro® Prosciutto Cotto along with lots of mozzarella!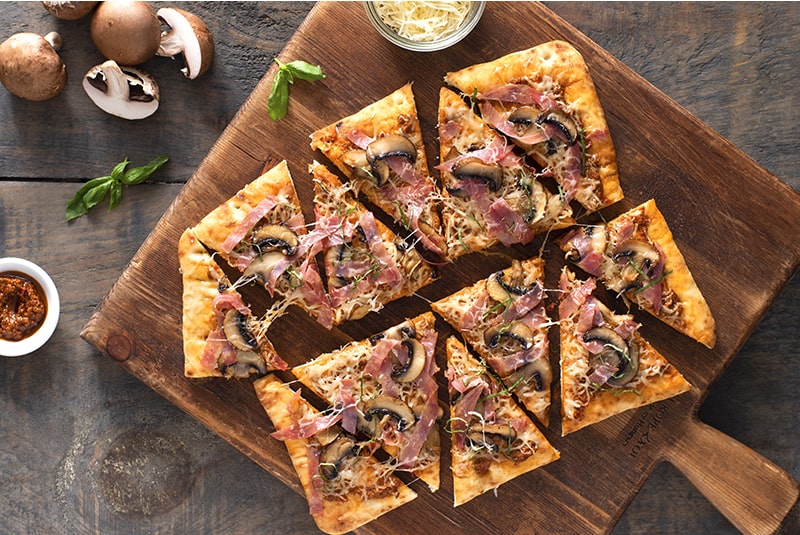 9. Mastro® Salami with Prosciutto & Mushroom Flatbread
A truly inspired take on traditional pizza. Easy to build on a flavourful flatbread that cooks up super quick in the oven. This pizza features earthy mushrooms, tangy sundried tomato pesto and fresh basil – all complemented by the rich texture of Mastro® Salami with Prosciutto.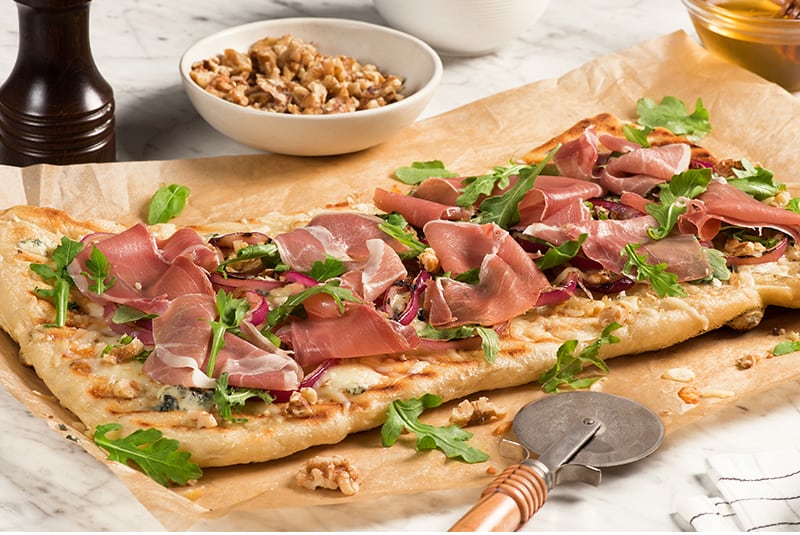 10. Grilled Onion & San Daniele® Prosciutto Pizza
Ready for something deliciously different? Just imagine the irresistible, melt-in-your-mouth flavour of San Daniele® Prosciutto paired with soft golden grilled onions, creamy blue cheese and sweet honey. Buon Appetito!